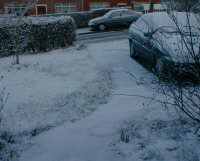 On the Sunday before we leave, it snows. Heavily. If it continues, we wonder whether the taxi on Wednesday morning will be able to get up the street! Monday it thaws but remains cold. Tuesday morning it starts snowing again very early. At 9.30 a.m. I decide that if I don't take the dog to the kennels very soon, I might not make it at all. By the time I drop her off at the kennels in Hazel Grove there is an inch of lying snow. The journey there has taken twice the normal time.

In the afternoon the snow turns to rain, but the forecast is not good. Travel in Scotland and the North-East of England is already severely restricted. Snow is expected to hit the North-West early on Wednesday. With a flight time of 9 a.m., check-in at 7, we've ordered the taxi for 6.15. We try to get an early night after all the last-minute packing. At 4 a.m. we stop trying to sleep, have tea and finish off the remaining fresh food from the fridge. It is clear outside but freezing cold. We phone the taxi-firm, inform them we are ready and by 5.10 are on our way to the airport just as the snow is starting to fall again.

The flight with Singapore Airlines is via Amsterdam. The first part of the journey is pleasant enough as the cabin is only about one-sixth occupied. At Amsterdam the plane fills up so I no longer have a free seat between myself and the aisle. The lady sitting there is very obliging about moving when we need to stretch our legs. A businesswoman in Amsterdam, she is going home to Malaysia to see her mother who is ill.

Sitting behind us, however, is an elderly gentleman and two elderly women. The oldest of the women keeps relaying to her companions all the details of the flight progress as displayed on the screen in the rear of the seats. Periodic updates would be tolerable but she keeps up a constant barrage of information. At one point on returning to her seat she accidentally (?) grabs my hair. No apology. In fact she laughs and jokes about it with her friends!

It is morning, local time, when we arrive at Changi Airport, Singapore.