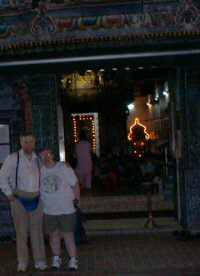 It is morning, local time, when we arrive at Changi Airport, Singapore. We get our hand luggage plus the overcoats and sweaters we'd been wearing when we left and make our way off the plane. It is a long walk to the Arrivals Hall. So much so that our luggage actually arrives before us! We are quickly through customs and find an enquiry desk. Our hotel stay has been booked through the airline in a deal known as a Singapore Stopover. We are directed to the Stopover desk near the exit which is another long walk. There, a sizable queue has formed and we have to wait an intolerable fifty minutes before reaching the desk. We are, however, warmly greeted and given a small but useful shopping bag (one each) and a set of vouchers entitling us to free entry to certain attractions, free use of the "SIA hop-on trolly-bus" and transfer to the hotel.

We only have a short time to wait for the bus to take us to our hotel. As we step outside of the air-conditioned airport building, the heat hits us. It is 40 degrees!

On arrival at The Peninsula Hotel we are directed to the check-in desk on the 6th floor. As our room is not quite ready they treat us to a complimentary drink. Exactly what is in it I don't know, but it is a mixture of fruit juices, including mango, non-alcoholic, very cool and decidedly delicious.

Whilst enjoying this refreshment, the trio who had been behind us on the plane turn up. The old lady comes over and is very angry with me. She says that we should have waited for them at the airport. It seems they'd not visited the enquiry-desk nor the Stopover desk and had had to take an expensive taxi to the hotel. Why she has to blame me, I have no idea.

After we gain our room and sort out delivery of our bags, we go to sleep. Some hours later, and after a refreshing bath, I leave Christine to sleep a bit longer and go out exploring. Instantly recognisable as a tourist, I am preyed upon to buy a camera outside all the many electronic stores. I resist their solicitudes and find my way down to Clarke Quay where I use one of my Stopover perks and have a free bum-boat ride.

Bum-boats are the traditional workhorses of the river. Eyes painted on the bows symbolize good luck. Nowadays they carry about a dozen passengers. The boats take you up the Singapore river to the harbour. It is an excellent way to relax and view the old shop-houses at Boat Quay against the background of huge modern skyscrapers. Beyond the harbour entrance lie an array of larger vessels at anchor. Returning one gets a good view of the Merlion, a majestic half-lion half-fish creature that is the symbol of Singapore's tourism industry.

Back at the hotel, Christine has woken up and is refreshed. We venture out together in the early evening, firstly visiting the shopping plaza next door. Christine soon manages to purchase a nice pair of Bermuda shorts. She immediately feels happier having something to wear that is appropriate to the climate. We have a seafood meal in a nearby café. Watching the people passing by in the street we become fascinated by the trishaws. These are like bicycles attached to a wheelchair.

We decide to take a tour of the city and commandeer a trishaw each. Our guides speak only faltering English but give us a marvellous tour. All cars in Singapore must have good brakes. Our trishaws are riden through all the traffic with what seems reckless abandon, but the cars stop and let us through. We are taken to a Hindu temple. Through the open doorway we see people at prayer. In the sky above are Jupiter and a wonderful sickle-moon. The delights of Chinatown are shown to us before moving on past Raffles Hotel and around the war memorial surrounded by fountains. By the time we are dropped off at our hotel we are well satisfied with our first encounter with Singapore.