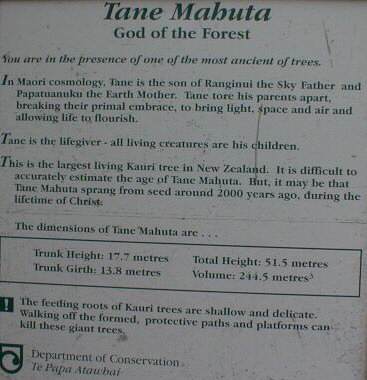 Anne puts on an excellent spread for breakfast. She tells us how they discovered the house in Auckland and had it dismantled and transported in bits to be re-erected on its present site.
From Makatane we take a winding gravel road to rejoin SH1 at Wellsford. At Brynderwyn we turn off onto SH12 to Dargaville. Further on we take the road down to the Kai Iwa Lakes, hoping to find some refreshments but the road ends up in a farmers' backyard.
Back on SH12 we drive up to the Waipoua Forest, where a signpost carries the notice "Bends for 24km." Some way on is a sign to a Forest Lookout and we follow a very steep winding gravel track to a carpark. Reaching the top of the lookout involves climbing a very steep ladder. The views are extensive but I don't find them especially impressive. I am not sure it is worth the effort involved in driving up the track.
Further on we stop at the path leading to Tane Mahuta. By the roadside is a vendor selling icecream, which we enjoy. I take the path into the forest. It leads past some interesting trees. Tane Mahuta, as a sign tells us, is the biggest and oldest living Kauri tree. There is a small seating area in front of the tree, where people can sit and admire it. I was impressed not only by the tree itself, but also by the respect which visitors, even the young children, give it. A second seating area is provided further back, from where the tree can seen with less straining of the neck.
I seem to have driven a long way since leaving SH1 to reach here, but am very glad to have seen it. The road gets more interesting once out of the forest, with quite stunning sea views around Omapere. It is still quite a way via Kaikohe to Pakaraka, where we stop at a roadside caf— for something to eat. From here it is a short way to Paihia and onto the car ferry which transports us to Russell where we are staying for three nights at Pukematu Lodge.
The lodge lies right at the top of Flagstaff hill. It is run by Colwyn and Kay Shortland. Colwyn is the local policeman. He is just going out as we arrive and has to reverse his police-van some way back up the lane to allow us past. We are welcomed by Kay, who shows us into a gorgeous and spacious set of rooms. From the deck of the lodge you can see 270 degrees, across to Paihia, down into Russell, and all along the Bay of Islands. We are nearing the end of our holiday, but isn't over yet, not by any means.