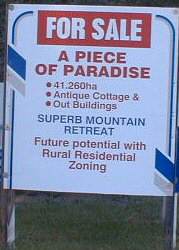 We are packed up and ready to go by 10 a.m. The sun is shining again as we leave Te Anau. On the outskirts of town we pick up a German hitchhiker. He has been in New Zealand for around six months, backpacking and sleeping mainly in his tent. He is now on his way to Dunedin. We compare notes about Europe and New Zealand. Increasingly we learn about the Abel Tasman Park and the area around Nelson and wish it was on our route. We recommend that our German friend visits Scotland sometime. We warn him about the West Coast midges but they are no more frightening than New Zealand sand-flies. We part company with him at Mossburn.
At Athol we visit Lazybones Café for brunch, before proceeding to Queenstown. Our overnight stay is at Evergreen Lodge. The lodge is set some way out of town. The entrance is rather narrow and hidden by trees at the end of a cul-de-sac. We are met by Gary who carries our luggage through to our room. The room is very spacious with a huge bed and a separate bathroom that includes both a bath and a shower. After a cup of tea and some delicious biscuits, Christine has a sleep. I have a long bath and then go into the lounge. The view is of Lake Wakatipu. Shortly after we arrive we watch the steamship travel up the lake, and later we see it return. I help myself to coffee, fish out a CD of Mozart's Eine Kleine Nachtmusik to listen to whilst relaxing, admiring the view and reading.
Christine emerges soon having had a nice sleep followed by a relaxing soak. We consider taking a ride in the famous Queenstown gondola and head off to town. The town is very busy and access to the gondola appears to be up a steepish walk. It doesn't seem to be easy to park and so we abandon that idea and head out of town up the shores of Lake Wakatipu towards Glenorchy. Beyond the head of the lake we can see snow-capped mountains in the distance.
I drive past Glenorchy and continue towards the mountains on a gravel road to Paradise. The road traverses sheep pasture and by Diamond Lake there is a short section of forestry. Black swans and their cygnets are swimming in the lake. Eventually the road comes to an almost dry river crossing. I decide that this is really suitable only for 4WD and not for a hire-car. We turn our backs on the Forbes Mountains and head back, stopping to look at the For Sale signs. New Zealand practice is not to buy a house and then the land comes with it as in the UK. Here they sell off sections of land and then build a house on the land. If you buy another piece of land you move the house, lock stock and barrel to the new piece of land. Here today you could buy your own little piece of Paradise.
Back in the village of Glenorchy we find a café-bar but they are not serving meals. Instead we discover Glen-Roydon Lodge. We are welcomed into the bar. They not only serve us some excellent food at a very reasonable price, they even produce a proper glass of shandy for Christine.
Suitably refreshed we go back to Evergreen Lodge. I borrow a video-tape of "Babe in the City" to view on the VCR in the bedroom. I've not discovered much decent TV here, so the tape seems a good idea. Although the film has much going for it, it doesn't come up to the standard of the original Babe film so three cheers for the fast-forward button. Time to settle down into the comfortable bed and dream of Paradise.
---
John Miranda stayed at Evergreen Lodge with his wife about a month later. His photo website includes pictures of Lake Wakatipu and of the Routeburn trail which lies beyond Paradise.
---