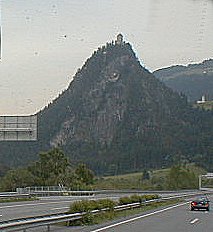 Fresh snow can be seen on the mountain-tops. A drizzly rain is falling.
Breakfast is "continental" and much the same as in Switzerland. The choices are limited. There is fruit juice, muesli, cornflakes, bread, a small selection of sliced hams and cheese, jams and marmalade, tea and coffee. No fresh fruit. The tea is in vacuum flasks, strong and luke-warm.
Today is the included tour to Germany and Neuschwanstein Castle. Along with the Glacier Express, this was one of the things that had attracted us to this particular tour. Christine is familiar with the castle via a 3D computer jigsaw puzzle. Having spent many hours completing the jigsaw and exploring the inside of it in virtual reality, we were anxious to view it in actual reality. We were aware that the castle was accessible only via numerous steps, so we didn't expect to take the grand tour. Nonetheless we had expected to see the outside of the building and its grounds. It turns out that you cannot visit the castle at all except on the guided tour. Those of us who elect therefore not to go to the castle, will spend five hours free time in Füssen, a fairly flat town.
The topmost snows are melting. The roadside streams are racing, white tops swirling over stones. The rain stops, clouds clear, the sun appears. The drivers point out a bridge which featured in a Hollywood film, but it is impossible to get a photograph from the moving coach. The road takes us towards Germany's highest mountain the Zugspitze. Here, reaching from the Austrian side is a cable-car which featured in yet another Bond film. As we cross from Austria into Germany, we are told that there is half a mile of road in a no-mans-land which belongs to neither country. At about 10 am we arrive in Füssen.
We are dropped off on the outskirts of the town by the bus and railway station. We walk down two streets and cross over the main road. An alleyway leads into the old-town. At the end we find the Café Rosengärten. A sign outside proclaims the availability of menus in English, French, Italian and Spanish. It sounds welcoming. We venture inside. For a nice mid-morning snack we decide to try the pancakes. They are like Dutch pancakes — full plate size, topped with fruit, syrup and ice-cream — filling and delicious.
The old town consists of two or three long pedestrianised streets. It is thronged with people; not just tourists but also older locals walking their dogs. There are benches at regular intervals so we can take our time and wander around slowly, stopping frequently. Many of the buildings are four or five storeys high, brightly painted and often ornately decorated.
Half-way up we come across a shop bearing a name found in most English high streets — "F.W. Woolworth". Odd though it is to find a "Woolies'" in Bavaria, only the name of the shop resembles its British counterparts. The lower ground hosts a small food-mall. As Christine intends to stay at the hotel for the day tomorrow, I need to buy her a lunch-time snack. I get something that looks like a Danish pastry and a couple of small bottles of Coke. Compared to the price of goods at home, these are very inexpensive.
Higher up the street is a fountain and some sort of monument. It looks a bit like St. George slaying the dragon. Christine rests here while I visit St. Mang's Cathedral Church.
St. Mang's is a large church in the Rococo style. Inside are many magnificent gold artefacts, stone statues and special displays. On one wall is an illuminated memorial to Seliger Franz Xavier Seelos. On the ceiling are beautiful paintings. Adjoining the church is a clock tower with a weather-vane on top.
Just lower down from the Cathedral I discover a café which offers internet access. Christine wanders towards some souvenir shops while I go in the café. Without my computer-spectacles, I have to peer closely at the screen. I access my email. After six days away, I have a mountain of spam to delete. Of the remaining couple of dozen messages, are some from at least five people I thought I'd asked not to send me mail whilst I was away. It takes me at least twenty minutes just to delete the spam. I leave the rest to be dealt with later, pay my dues and stagger outside.
I find Christine a few shops away. Most of the souvenirs on sale are either too large, too expensive or simply cheap and cheerful rubbish. We come across a shop devoted to ladies underwear. It is the kind of quality one used to get from "M&S". We don't speak German and the assistant has limited English. It takes a bit of trial and error and some sign-language, but she finds the garments she requires. The price is extremely reasonable and we wish we'd bought more items.
Now ready for something to eat, we sit down at one of the pavement cafés. We try to order one pizza between the two of us, but the waitress is reluctant. So it is back for the second time to Café Rosengärten, where we are welcomed. I have a sausage and potato salad. Germany has a reputation for sausages. This is slightly larger than what passes at home for a "jumbo sausage". It is perfectly cooked and tastes gorgeous — even better than some of the best Cumberland sausages I've ever consumed. The salad is full of a variety of vegetables and is a super accompaniment. Christine has a different salad and Swiss sausages which come sliced. The café toilets are downstairs but are spotlessly clean.
We make our way back to the station, where our coach awaits. Those who have been to the castle have had just a couple of hours in fascinating Füssen. It is a warm afternoon as we return to St. Anton.
On our return to the hotel we discover that the chambermaid was been super-efficient. She has cleaned the bathroom and taken away the little bar of soap which I'd left on the shelf above the sink!
This evening's meal is a carvery where each table in turn collects their meat and vegetables from the chef. The planned Tyrolean evening has been cancelled, which is maybe as well, since we are really too tired to enjoy an evening out.
While Christine reads in bed, I spend time trying to find something of interest on the TV. There are 32 channels but none are in English. Although I find some programmes that were originally in English, such as a Michael Caine film and an episode of "Quincy", they've been dubbed into German, French or Italian. One interesting channel is the local St Anton am Alberg TV. It had two films of winter skiers to a background of music by Strauss. These films were rotated in succession between periods of showing local text information.
Soon we settle down to a good night's sleep.