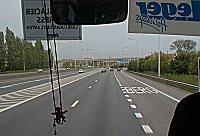 The alarm goes off at 4.15 am. I've spent the last ten minutes or so, just slumbering waiting for it. Our suitcases were packed the previous day and we've just got a few things left to finish off. At 5.15 I ring for a taxi.
"Sorry, all our taxis are at the airport".
We are going on a coach holiday with Leger Holidays and our feeder coach leaves Ashton Bus Station at 6 am. I search the phone book, find another taxi company. We are in luck.
Ashton Bus Station is deserted at this time on a chilly Saturday morning. Our coach arrives on time. The driver had left Morecambe just after 3 am. We pick up in Stockport and Altrincham before stopping 20 minutes at Knutsford Services on the M6 as the driver needs a rest break. Yesterday I'd stocked up with some sandwiches for the journey. These along with some chocolate, two bananas and bottled water are in our hand luggage.
At Newcastle-under-Lyme, two passengers are missing. It turns out their Leger-ordered taxi, which picked them up in Uttoxeter, has delivered them to the wrong place.
At Walsall, we acquire a new driver for the rest of the journey. After picking two people up in Birmingham we stop for lunch at the Hopwood Park Services, Junction 2 of the M42. We need something hot, but the queues for hot food are quite long. We settle for a pot of tea and two "Bacon Brioche" which is really just crispy bacon, lettuce and tomato in a warm slightly crusty roll.
The couple who missed the Newcastle connection join the coach here, having spent £55 on a 60-mile taxi journey!
From here it is non-stop motorway, M40, M25, M20 to Folkstone and the Channel Tunnel. The Channel Tunnel has an interesting history. First suggested in 1802, after some aborted attempts, Eurotunnel finally opened in 1994.
This is where we change from the feeder coach to our holiday coach. We are asked to take all our hand luggage and wait in the terminal building while our suitcases are unloaded, the luggage and coaches inspected by the security people, then we will be asked to come back and collect our suitcases for loading into our holiday coach.
It is a bit of a walk from the coach park to the terminal building entrance. Just inside are the toilets but it is a further walk to the concourse where there are a few seats. After about 20 minutes we are all called back to the coach park. Our bags are still arranged behind the feeder coaches. The security people keep us hanging around for a further 20 minutes. There is nowhere outside to sit and Christine's ankles and knees are giving way with the pain and strain of standing.
Eventually we get on our holiday coach. Our seats are directly behind the driver which gives a good view through the windscreen. Eurotunnel is not a drive-through tunnel. The coaches drive onto a long train. Once loaded, sets of doors come down so that each coach on the train is in its own compartment. There is space in front and behind the coach for passengers to get out and stand around if they wish. The journey through the tunnel takes about 35 minutes.
We come out into the open countryside around Calais. Small lakes or ponds, home to wildfowl, litter the green fields. No sign of the sea either side, it seems as though we have sneaked into Europe.
First stop is at Pidou Wine & Beer Cash & Carry on rue Marcel Dassault. The coaches go to fill up with diesel, which is a great deal cheaper in France, than it is in the UK. Christine stays on the coach while I go into the shop. I buy some small bottles of coke a couple of pre-packed sandwiches and a bit of chocolate.
A two hour drive takes us to the Belgium capital of Brussels, where we are staying at the Holiday Inn, Brussels Airport. As we arrive, we see some rabbits playing on the lawn.
One of the features that originally attracted us in the Leger brochure was "full porterage". It seems that this is a new feature for 2002 but no-one seems to have told the hotel staff. The drivers remind us that, whilst we can indeed leave the porters to transport our luggage, we ourselves are totally responsible for it at all times, should anything happen thereto. In the circumstances, it seems best to manhandle it ourselves.
The hotel is very modern and despite its proximity to the airport we never hear any aircraft noise. The room is of excellent standard and the bed extremely comfortable.
We decide to have our evening meal in the bar. Christine orders a chickenburger with salad and chips whilst I have a lasagne. The chickenburger is a really nice piece of well-cooked meat in a thin bread roll about 8" in diameter. My lasagne is very delicious but unaccompanied so I also eat half of Christine's bread and a few of her chips. Enjoyable as the meal is, it is quite pricey and we have to spend some of our time squashing the ants that are crawling up the table leg onto the table.
It is good that we are one of the first to come into the bar for a meal. Those who come in later have to wait quite a long time to get served. It seems that most of the bar-staff, recruited from Eastern Europe, are fairly new and unused to such an influx of customers.
We are very tired but well-fed and looking forward to tomorrow.